We believe the decisions being made by politicians in the Dail are not representative of the will of the people. We believe the people of Ireland are entitled to and deserve better than what's currently being imposed on them. We want to have an honest debate about a vision for Ireland and to establish whether there is a way to deliver a fairer, more equal society based on the principles of equality, democracy and social justice.
Contact our Data Protection Officer E. Drummey at [email protected] or at 10A Old county Rd, Dublin 12.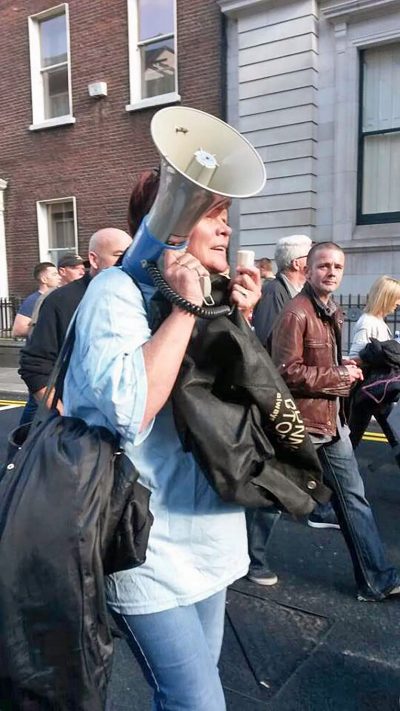 Right to Change is a grass roots political party established by Joan Collins TD. Our movement seeks a fairer, more equal Ireland that benefits all of our people rather than a select few. We have a 'Right to Change' the following:
• Ireland is officially among the most unequal countries in the European Union with tax breaks for the richest, and consequently failing public services for the rest of us
• 10% of Irish people live in food poverty and lower income families have to spend 1/3 on their income on food alone
• More than 1 in 3 people forced into emergency accommodation is a child. 25 families became newly homeless in Dublin in May 2020 alone. The number of homeless families has increased by 115% since May 2015
• Lone parents in Ireland have the second highest rate of income poverty, persistent poverty and severe deprivation among the 'EU-15'
• Living in poverty is a reality for 1 in 5 children in Ireland – 230,000 children.
• 1 in 4 children are living in households experiencing deprivation of two or more basic necessities
• A total of 295,400 Irish nationals emigrated between 2011 and 2017 and in 2019 more Irish were leaving the country than returning again
• Ireland have the worst worker and Trade Union right of any comparator country with resultant low pay, precarious work, and social and economic inequality for many workers and their families
• 23% of Irish workers are officially on low pay (OECD). Ireland is only behind Latvia and the United States in worldwide OECD figures on low pay
• The total number on healthcare waiting lists in Ireland in April 2020 was a gigantic 766,300 people. Ireland continues to have a trolley crisis, an annual flu disaster, and a health system deliberately developed to put private profit over public health
• Ireland has the third highest levels of greenhouse gas emissions per capita in the EU as is described as 'a laggard' in terms of its tackling of climate change
Despite this systemic inequality, poverty, deprivation and misery Ireland has 17 billionaires and 78,000 millionaires. A further 17,000 are expected to become millionaires by 2023.
Revenue confirm that many of the State's wealthiest people pay relatively little income tax here. Ireland has an extraordinary array of tax reliefs for the rich and wealthy had has been labelled a 'tax haven in multiple impartial international reports. Many of the world largest corporations have effective 0% tax rates in Ireland. The United States by comparison has a corporate tax rate of 35%.
Ireland is a country run 'for the few, at the expense of the many'. This is beyond embarrassing. 'Leprechaun economics' is impacting your life and that of your family and community.
If you believe you have a Right to Change this country from one built on the principles of corruption, cronyism, inequality and greed to one built on the principles of equality, democracy and social justice, then join the party and work with others for a better, fairer Ireland.